Healthcare on Wheels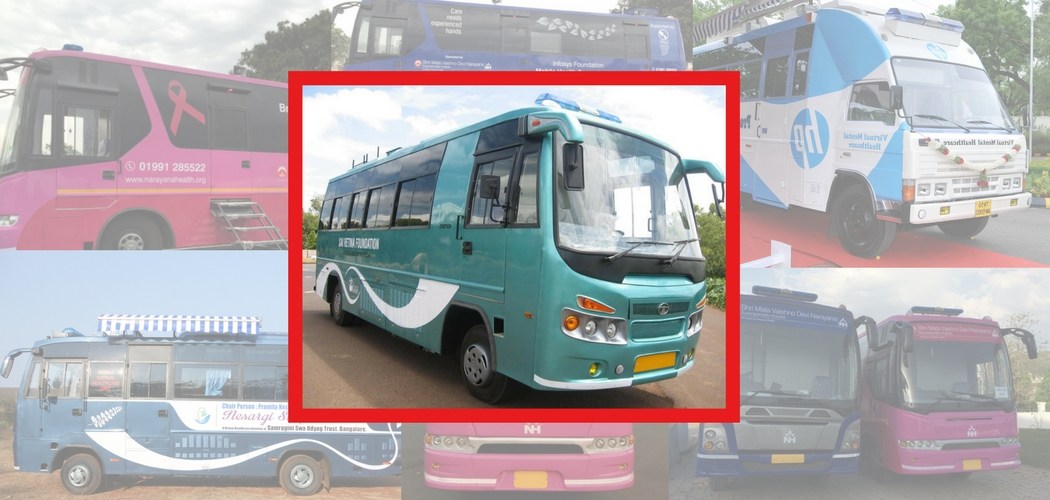 Crescendo Corporation is creating customized medical vans to provide healthcare services in areas that are in dire need of doctors. Ikyatha Yerasala writes about this unique initiative.
A mobile van, fully equipped with technology, is used in diagnosing patients and provides medical services in remote areas– sounds like an interesting solution to India's dismal doctor-patient ratio, doesn't it? All credits to a company called Crescendo Corporation; these made-to-order vans are a reality in various states in the country– from Jammu and Kashmir to Kerala. Talking about how this distinctive idea was born, Cdr. Binu Tom Jacob (Retd), CEO, Crescendo Corporation says, "I worked in the Indian Navy for 20 years, after which I retired because I felt a strong urge to start an entrepreneurial venture that would provide social benefits. In 2011, I started Crescendo with an aim to imbibe technology in projects which give tangible social benefits."
THE BEGINNING
Back then, Hewlett Packard was looking for a developer who could custom-create a virtual van and that's when Cdr. Binu got in touch with the organization. "They funded two projects: one for palliative care– which was a van for cancer patients with basic diagnostics like BP, ECG, pulse oximeter, pathological laboratory etc. For a lot of these patients, going to the hospital in case of injuries would be a painful task. The van goes to the care home and through a telemedicine software, patients communicate with the doctor," he shares.
Their other project, a first-of-its-kind initiative in India, was a telepsychiatry project in Madurai. Patients with mental ailments were admitted to homes that were geographically segregated. A telemedicine facility was created where the vehicle would go every day to each of these centres. "The doctors can sit in their cabins, see patients and advise them – only those who require personal attention would be asked to visit a hospital for checkups," says Cdr Binu.
JOURNEY SO FAR
So far, Crescendo has created about 14 vans for different customers – for organisations like HP, foundations like Sai Retina Foundation, Hans Foundation, Infosys Foundation (which funded vans for Narayana Health) and for clients abroad like Ashok Leyland which runs a project in Papua New Guinea where a special diagnostic van was created for HIV testing etc. "Our vans are customised for the problems to be addressed– it could be cancer detection or ophthalmology. We are involved right from the concept stage till the creation of the machine. India is still far away from the 1:1000 doctor-patient ratio and we aim to tackle this problem," says Cdr. Binu.
Their current venture includes a cancer detection van for MVR Care Foundation in Calicut, Kerala. To be launched in May, the AC van has several facilities ─ oral cancer detection, mammogram, path lab, chemical toilet etc. The organisation's other unique project, funded by Sudha Murthy, was a bus created for Shri Mata Vaishno Devi Narayana Superspeciality Hospital in Katra, J & K.
BENEFITS OF THE VEHICLE
Apart from tackling the issue of doctor-patient ratio, what are the benefits of these mobile vans that function both in urban and rural India? "Firstly, they increase reach and scale. Secondly, they're cost effective where patients, who come all the way from rural areas, can save money and time. The cost of getting all tests done at one of these vans would be Rs 300, but in a hospital, it could cost Rs 1,200. Most of these initiatives are funded by philanthropic organisations. Also, our vans have LED screens with information on hygiene issues, Swacch Bharat and more, which patients can watch while waiting. We've also got an enunciation system, wherein the doctor/spokesperson can give speeches to sensitize people. Lastly, local people are employed and trained to work in these vans. Overall, this is a platform for holistic delivery of care," states Cdr Binu, adding, "We'd like to collect data about issues which the country is facing and address the core problem rather than just treat symptoms or diseases."
With virtual vans doing a great job at reaching out to patients, it's about time we focus on investments in technology that can help tackle India's healthcare woes.
Author : Ikyatha Yerasala
Ikyatha Yerasala is a consulting correspondent who brings with her a varied experience in interviewing some very interesting people – from sports stars to actors and artistes. A true blue Bangalorean, she's passionate about women's rights, music, cricket, movies and rasagullas. She hopes to see more research focusing on invisible illnesses.