HIV Testing Clinics For LGBT Community By the LGBT Community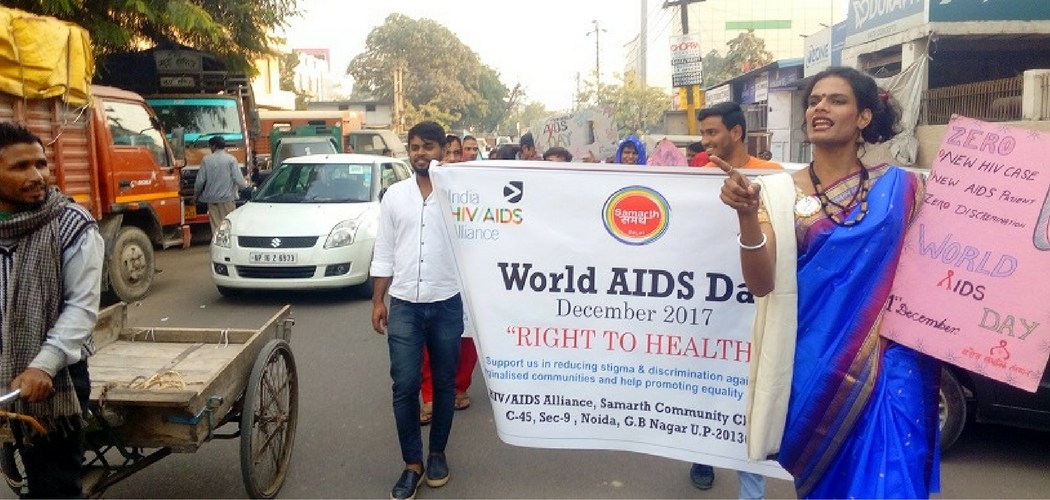 Widespread lack of sensitised healthcare workers for the LGBT population encouraged the tabooed community to take this grave matter in its own hands. Thus was born Samarth community clinics; an applaudable model through an through, these clinics are exclusively for the LGBT members, catering to their specific health needs, and are even run by the community representatives.
CONCEPTION
NACO 2014-15 Annual Report disclosed that HIV testing among men who have sex with men (MSM) and transgenders (TG) has not been able to move much beyond 60%, while both these key population has prevalence rate of 4.3% and 8.82% respectively. In spite of government efforts and community mobilization, social stigma, discrimination, punitive laws, lack of sensitized workers, and unresponsive service hours and locations, discourage them from accessing these services. Considering community involvement and empowerment as key of any intervention, India HIV/AIDS initiated Samarth (empowered in Hindi) programme in June 2016, to ensure access to community-friendly HIV testing and care continuum to these marginalised communities.
Supported by Elton John AIDS Foundation, Samarth was initiated in June 2016 proposing six community clinics. Considering sensitivity associated with gender and HIV, initial four months were spent in procedure development and field preparation. Community-based testing especially for MSM and TG was relatively a very new concept at that time; therefore National AIDS Research Institute (NARI) was approached as a technical and capacity development partner and a SOP document was drafted in July 2016. Following the guideline, staff appointment and their capacity building was successfully completed on September 1, 2016. Ensuring sensitive location and all other logistic management, Samarth was launched on September 21, 2016 with establishment of six community clinics.
SAMARTH HIV TESTING CLINICS
In less than a year of clinic establishment, Samarth achieved to test 4,597 MSM and TG clients for HIV, with more than 70% clients reporting to be first ever tested in their life. It also received recognition as 'demonstration model' to develop national Community Based Testing guidelines. Responding to the growing of demand of establishing similar clinics at different locations across India, Alliance India initiated the seventh Samarth clinic at Hassan, Karnataka, which started operating in September 2017.
Today, Samarth has established seven community led clinics in priority cities of Noida, Jalandhar, Pune, Hyderabad, Vadodara, Hooghly (Serampore) and Hassan, and encourage HIV testing among previously untested MSM and TG people to help reduce testing gaps. The programme will cover 10800 people from these groups between three years' time (June 2016 – May 2019).
A MODEL TO EMULATE
Overall the Samarth programme is run by the community at all levels, from the service providers to the managers even, says Rohit Sarkar, Senior Programme Officer— Sexuality Gender and Rights, AIDS Alliance India. "While at the outreach and clinic management staff are mandatorily taken from the community, at other technical position (doctor, nurse / lab-technician, data operation, fianance management) local community groups are encouraged to identify potential candidates and help them in applying for the vacancy. At mainstream health service provision, due to strong stigma against gender and sexuality, accepting students and faculty from these communities is rare," he explains.
The programme is designed to supplement national HIV programme to increase health access for these tabooed groups through community-friendly clinical support. Regular advocacy with NACO and respective State AIDS Control Societies further strengthen coordination with government and help to received Facility Integrated HIV Testing Center status within a year of clinic establishment.
Similarly, each Samarth clinic is implemented by strong community groups which has years of experience in advocacy for enabling environment. "So besides some one-off incidents of denying place to rent for two clinics by property owners, Samarth programme has been received well from both government and society ," divulges Rohit, adding "Involvement of local influential people at each Clinic Advisory Board ensures stronger ownership and scope of advocacy with different stakeholders, which further eliminates any conflict."
ARRAY OF SERVICES
Across seven community clinics, HIV screening test, STI screening and basic health check-ups by consulting doctors are provided as main health services. Samarth Jalandhar clinic has also started screening of HCV following high prevalence of the infection in Punjab.
As part of testing preparedness and adherence, need-based counselling is also provided to every clients for HIV and STI. Clients identified reactive at the clinics are provided accompanied linkages to government ICTC and ART Clinics for confirmation test and treatment. Besides health services, Samarth also conduct activities for community empowerment and enabling environment.
IN GREAT DEMAND
Friendly atmosphere and convenient timings contributed to average 8-10 client visit per day to every clinics. Till December 2017, the programme has screened 7,126 clients and repeat tested 3,519 clients. Unconventional methods of outreach over social media and at work-place, continued to attract new clients and overall 5,558 (78% of total) clients are reported to be first ever tested in their life through this programme. Continuing to treatment linkage, 156 clients out of 168 clients referred for confirmation test and are linked successfully with ART.
"Samarth programme's experience in covering more at risk yet hard to reach population has created strong demand of establishing similar clinics at different locations," shares Rohit.
Well, we are not surprised. This is surely a model worth replicating.